Japanese: THE iDOLM@STER MILLION LIVE!
Genre : Music, Slice of Life
Seasons : Fall 2023
Producers: Lantis, Bandai Namco Entertainment, Bic Studio
Type: TV Series
Status: Ongoing
Total Episode: 12
Score: 6.73
Duration: 24 min. per ep.
Released on: Oct 08, 2023
The iDOLM@STER Million Live! proyek baru dari IMAS, buat series ini di bawah naungan 765 Produser. Jadi bisa liat si jenong tsuntsun Iori lagi wkwkw
Pusatnya pada 3 gadis yang memiliki tujuan masing-masing di dalam hidupnya ; Mirai Kasuga gadis periang yang penuh semangat dan sangat ahli dalam segala bidang fisik dan olahraga. Dia mencoba semua kegiatan ekstrakurikuler olahraga tapi tidak ada yang mengikat jiwa ataupun hati. Jadi dia sangat ingin sekali meraih mimpi yang belum pernah ia lihat sebelumnya. Gadis kedua adalah Shizuka Mogami tak pernah goyah untuk menjadi idola, walaupun orang tuanya tidak mendukung pilihannya tersebut. Dan yang terakhir adalah Serta Tsubasa Ibuki yang ingin serius menjadi sesuatu.
Yang menuntun jalan 3 gadis ke gemerlapnya menjadi Idola adalah teman-teman baru. Ini adalah kisah 39 idol yang berusaha meraih "impian" mereka bersama. Kisah yang membawa mereka pada panggung yang dipenuhi 1 juta gemerlapnya cahaya.
Mudah-mudahan ceritanya tidak terlalu membosankan ya, karena dari sekian banyak series anime Idol. IMAS salah satu yang mimin suka, mulaupun di series ini jumlah karakternya banyak banget. Dan semoga si jenong tsuntsun akan sering tampil karena sama-sama 765 Produser.
Iori Minase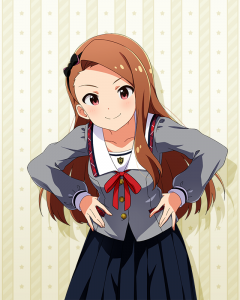 Penerjemah : Coco
Tatarias : Coco dan Koneko
Lirik lagu dan Efek lagu : Hiromi
Sisanya : Koneko
Anime Sejenis : The iDOLM@STER
Download THE iDOLM@STER MILLION LIVE! Batch Sub Indo, Download IMAS Million Live! Batch Sub Indo. Download IMAS MILLION LIVE! Sub Indo BD MKV 720P, MKV 480P, batch
Matikan ADBLOCK untuk melihat link download